Not to get too personal, but did you know that the average person uses the toilet 6 – 8 times throughout the day (Source: World Toilet Organization)? Now consider how many people live in your household. That's a lot of usage that the toilets in your home are subjected to every day. It is no wonder that you may have to deal with pesky clogs every now and again. Of course, this is what a plunger is for, right? Not always.
If a toilet in your home is frequently backing up, this could be an indication that something else is going on within your plumbing system. There may be a blockage in the sewer line, or you may have a shallow clog in the trap that is unresponsive to plunging. When you're facing these types of problems, you need expert plumbing service in Santa Clarita, CA.
Toilet Repair Services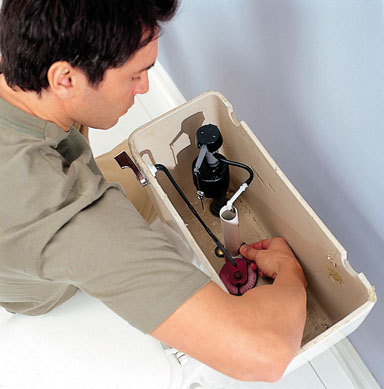 A broken toilet can include any one of the following situations: frequent clogs, broken handle, corroded flush valve, damaged flapper, a leaky base, and cracks. At Santa Clarita Plumbing Service Pros, we handle every single type of toilet repair you can imagine. When you call for repair services, we'll send a licensed plumber to your home to analyze the situation and make the best suggestion for repair or replacement to help you put your broken toilet problems to rest.
Our plumbing pros use the latest equipment like water-jetting to break apart stubborn clogs, leaving your toilet's plumbing as clean and blockage-free as the day it was first installed. Our plumbing specialists also use video plumbing technology to look into your drainpipes to see exactly what is going on. This technology has helped our plumbers find problems deep within the drainpipes or sewer line that may have gone unnoticed for quite a while until the problem turns into catastrophic, plumbing failure.
Residents of Santa Clarita, California who take advantage of our expert toilet repairs know that they can count on the commodes in their homes to work without fail 24 hours a day.
Toilet Installation Services
Do you need a new toilet? Is your toilet is broken? Does it need to be replaced, or are you simply tired of wasting money using a toilet that uses large amounts of water? We can help you choose a new commode that is energy-efficient and priced within your budget.
Did you already buy a new toilet? Give us a call and let us help you with the installation. We deliver unsurpassed toilet installation in Santa Clarita, guaranteeing our services from start to finish.
To schedule an appointment with one of our trusted and industry-certified plumbers in Santa Clarita, give us a call today. A friendly, plumbing associate will be happy to take your call and answer any questions you may have.